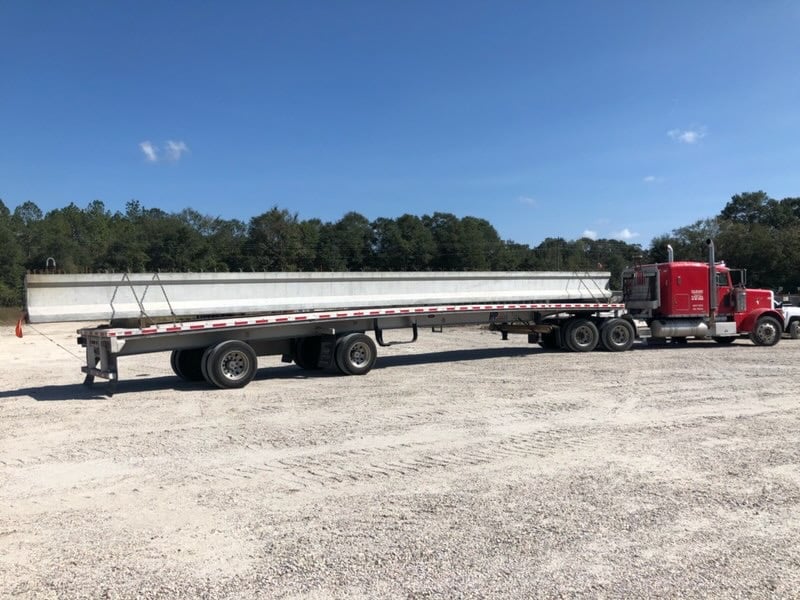 The middle of a pipeline might pass through an entirely trackless expanse, but there's still a definite need for timely shipments of materials during construction and maintenance.
Imagine an oil pipeline. Although its endpoints may have roads and addresses—a refinery on one end and a depot on the other—the middle might pass through an entirely trackless expanse. No street numbers, but still a definite need for timely shipments of materials during construction and maintenance. Whereas previous generations of logistics may have needed paper maps or vernacular directions ("turn right three miles after the general store") to get to these locations, the precision of a modern supply chain requires more accurate deliveries.
Specializing in Complicated Truck Delivery
Here's a specific example of how Jones Logistics uses its advanced custom spot software to accelerate construction in remote locations without addresses.
We were recently contracted to deliver materials to a bridge under construction. This involved several challenges—not just related to finding the bridge.
First, these shipments fit the definition of "complicated freight." Consisting of 59-foot bridge girders, these over-dimensional loads could strain the abilities of even the most experienced drivers. Fortunately, our relationships with freight carriers allow us to reliably find top flatbed equipment haulers who not only want to carry this difficult cargo, but whose experience is also more than a match for the challenge it presents.
Second, the dimensions of the project required over 120 shipments in total. What's more, the girders comprising the shipments couldn't be delivered in any particular order—they weren't interchangeable. Instead, they needed to be delivered in the same order that they were picked. Fortunately, we pride ourselves on our ability to deliver drops in the correct order while delivering to remote locations. We were able to fulfill this mission-critical requirement based on our experience in many previous engagements.
In short, we had two very serious challenges to overcome before even taking the remote location of the bridge into consideration. Having planned our way through those obstacles, our next step was to create routes into that remote location.
Freight Companies Provide a Win with Geocodes
Driving a large, oversized load of heavy materials to a remote location is only half of the problem that we needed to face. The other half of that problem was picking up and delivering those materials on time.
To do this, we relied on our custom, in-house spot navigation system. In effect, this allowed us to not only give our drivers the exact location of the bridge, but also plot out a series of waypoints. With these waypoints, we could easily communicate the best possible route-one that would avoid traffic and stick to the most navigable roads and bridges, allowing drivers to reach their destination without delay.
In addition, our navigation system allowed our client to monitor the location of their shipments in real time, even as they passed through areas without traditional phone or internet service. This meant that the construction company was able to validate that their shipment would arrive as promised while also being able to assure their own customers and partners that construction would continue on schedule.
At the end of the day, our combination of industry expertise and advanced software allowed us to deliver 124 loads in total over multiple phases. Remote locations, exacting deadlines, and complicated cargo proved no obstacle to the drivers and dispatchers at Jones Logistics.
For more information about how you can benefit from our abilities, click the link below to get a quote today!