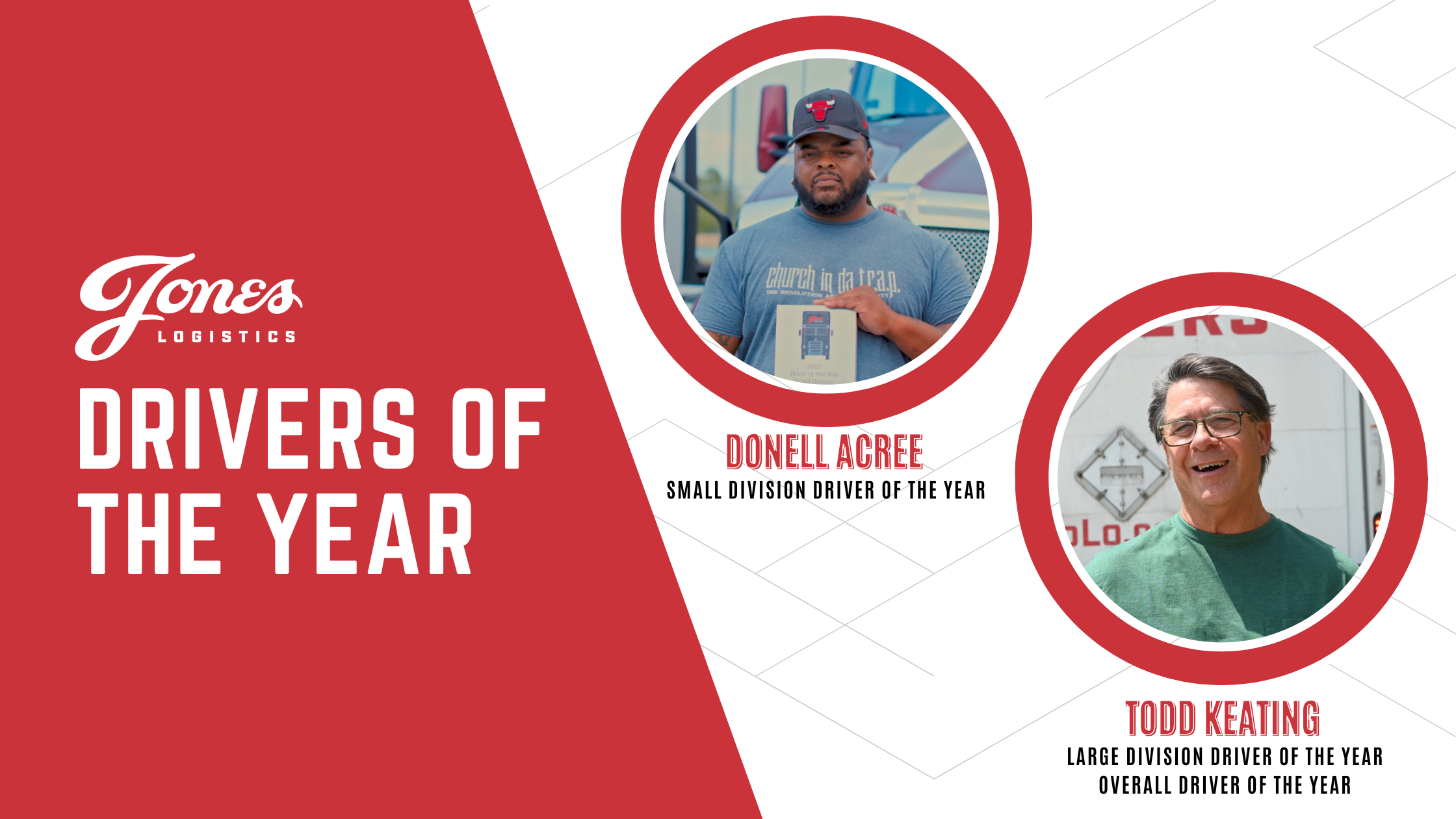 At Jones Logistics (JoLo), our drivers are where the rubber meets the road. Without these men and women behind the wheel, it wouldn't be possible for us to do what we do. While we value all our drivers, we like to recognize those who especially go above and beyond the call of duty. This year, we are proud to call Donell Acree our Small Division Driver of the Year for 2022, and Todd Keating our Large Division and Overall Driver of the Year for 2022.
At JoLo, a lot goes into consideration when selecting our drivers of the year. For one thing, considered drivers must uphold our core values. They must also have excellent safety scores and good rapport with their dispatchers. Donell and Todd are both great examples of this.
Donell Acree began his journey with JoLo in March 2022. Although he's only been with us for one year, this is not the first time he is being recognized for his performance. Also in 2022, Donell was our Q2 Small Division Driver of the Quarter.
Chris Williams, an Operations Manager at JoLo, presented Donell's most recent award to him in Savannah, Georgia. "Donell is just a really great guy who gets the job done, but beyond that, he's just a really safe driver," Chris commented.
Donell has earned an excellent reputation during his short amount of time with JoLo. We are grateful to call him "One of Jones," and we are happy that he takes pride in calling himself the same. "This means a lot! This is actually the first company I've got a reward from," commented Donell when talking about his experience with JoLo. "I'm big on family, so when the company I work for feels like a family, I love it."
On the other side of the country, a crowd of JoLo supporters met Todd Keating with applause as he drove into the yard at our Waukesha, Wisconsin location.
"Todd never misses a beat when it comes to living our core values," commented Carrie Bosanec, Senior Director of Operations. "Todd's commitment to living our purpose every day to enhance the lives of our employees, customers, vendors, and the communities we serve are personified by his dedication to his family, his co-workers, and the motoring public."
Todd has been with JoLo for two years as of January 2023. Like Donell, Todd has also earned an excellent reputation during his time so far with JoLo, and was also named a Driver of the Quarter in 2022. When asked to say a few words after receiving his award, all he could muster was "I don't know what to say! Thank you!" Later, Todd went on to say "This was an incredible surprise. I was flabbergasted and out of breath. I mean I've never worked for a company where I received Employee of the Quarter, much less Employee of the Year, so this is outstanding."
Congratulations to Todd and Donell, and thank you for being One of Jones! If you are passionate about driving and looking for a change of pace, consider applying for a job at Jones Logistics! We are always looking for A-players like Todd and Donell. To learn more about how you can Drive for Jones, visit our career page at DriveforJones.com.
For over 24 years, Jones Logistics has been focused on delivering freight brokerage, managed transportation and dedicated services to clients across the United States. Headquartered in Hattiesburg, Mississippi, the company has over 730 employees across 28 states. The expertise of Jones Logistics has evolved beyond general transportation to include more specialized services such as brokerage capabilities, flatbed, heavy haul, transportation of forestry by-products, and the dedicated services division. Regardless of industry, the team at Jones Logistics locates the right resources for any transportation or logistics requirement.