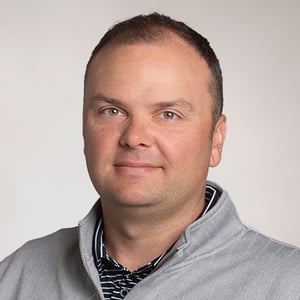 We take pride in our work culture and go to great lengths to be sure that potential employees exemplify our core values. We know that we can teach anyone under our wing a thing or two about the trucking industry, however, values such as integrity, passion, unity, sustainability, and humility cannot be taught. Although all of our employees are required to possess these values, there are those who continually go above and beyond their call of duty for the benefit of others. Our Carrier Sales Manager, Kevin Callahan, is a prime example.
We are proud to announce that Kevin has been named our first JoLo BOLO! JoLo BOLO is our brand new, nomination-based employee recognition program at Jones Logistics. An acronym for "be on the lookout," the JoLo BOLO program is designed to acknowledge employees who are being recognized for embodying the values of Jones Logistics by doing big, or small, things to improve the lives of those around them.
"I love the people here. Every job has its ups and downs but the people are what make this job so special," commented Kevin when asked what he loves most about his role. "I am very grateful for the group of people around me because they make this job satisfying and fulfilling."
Kevin started working at Jones Logistics in April 2019 as a Carrier Sales Representative. He was promoted to Carrier Sales Manager in October 2021. Over the past two years, Kevin has played an instrumental role in the growth of his carrier sales team. Under his leadership, Kevin's team continues to pursue excellence on a daily basis.
"Kevin manages carrier relationships daily in an exemplary fashion," said one of his colleagues anonymously. "Carriers can have a wide range of emotions whenever issues arise on a load, and Kevin is able to manage the carrier so that the best possible outcome for the situation is reached. Kevin is humble and does not want recognition for his skills whenever he is complimented."
Right now, JoLo is experiencing amazing growth. If you are an A-player who is dedicated to getting the job done like Kevin and his team, visit our career page to learn more about how you can become "One of Jones": https://www.joneslogistics.com/careers/.