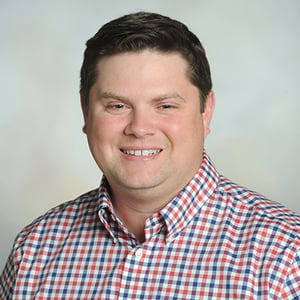 Hattiesburg, Miss - Jones Logistics, a portfolio company of Jones Capital, is proud to announce that Nick Deal has been promoted to Vice President of Brokerage Operations. Nick joins the executive team from his most recent position within the company as Director of Crane Mat Operations.
Nick started working with Jones Logistics in January 2017 as a Carrier Sales Representative. He was promoted to Manager of Crane Mat Operations in 2018, and was later promoted to Director in 2020. Throughout his time at Jones Logistics, Nick has demonstrated a tremendous ability to lead, work with others, and successfully manage difficult freight.
"I am very excited for Nick and his taking of this role. Nick has done an amazing job of managing our largest brokerage account in an exemplary manner," said Brian Haynes, CEO of Jones Logistics. "Nick has a great ability to be a patient servant leader and I am looking forward to working closely with Nick as we continue to grow the brokerage side of Jones Logistics."
For over 20 years, Jones Logistics has been dedicated not only to providing clever and customized solutions to fit the needs of every partner, but it is also dedicated to maintaining long-lasting relationships that are built on confidence and consistency. In the transportation industry, customer service is often traded for profit. That's why Jones Logistics is committed to doing things differently by becoming a trusted partner, not just a logistics provider.
"I am humbled by the opportunity to fill the seat of Vice President at Jones Logistics," commented Nick. "To be a part of something as special as what we have going on here is a great honor. As we face both the victories and challenges that will come with our continued growth, I am most excited to watch the phenomenal team we have assembled grow both in numbers and as individuals, all while marching towards a common goal." In his new role, Nick Deal will oversee all brokerage departments of Crane Mat Operations, Enterprise Operations, Special Operations, Business Development, and Carrier Sales.
To learn more about other exciting career opportunities at Jones Logistics, visit https://www.joneslogistics.com/careers/. To learn more about becoming a certified carrier, visit https://www.joneslogistics.com/carriers/.
ABOUT JONES LOGISTICS
Jones Logistics is a transportation company based in Hattiesburg, MS. One of several entities under the Jones Capital umbrella, Jones Logistics offers various transportation solutions including dedicated contracts, flatbed hauling, project freight, transload services, and fleet management. Like its parent company, Jones Capital, Jones Logistics is founded on the core values of integrity, passion, unity, sustainability, and humility, and is committed to being a trusted partner in business.
ABOUT JONES CAPITAL
Headquartered in Houston, TX, Jones Capital is a family-owned, private capital provider dedicated to investing in middle-market businesses in order to help communities, create jobs, and enhance lives. Jones has a longstanding history that dates back as early as 1949 with a single, hardwood sawmill in rural southwest Mississippi. Today, Jones Capital owns several businesses like Jones Logistics, including Jones Lumber, Jones Power, PortaBull Fuel, Spot, Codaray, and FV Recycling, among others. To learn more about investing with Jones Capital, visit Jones.com.