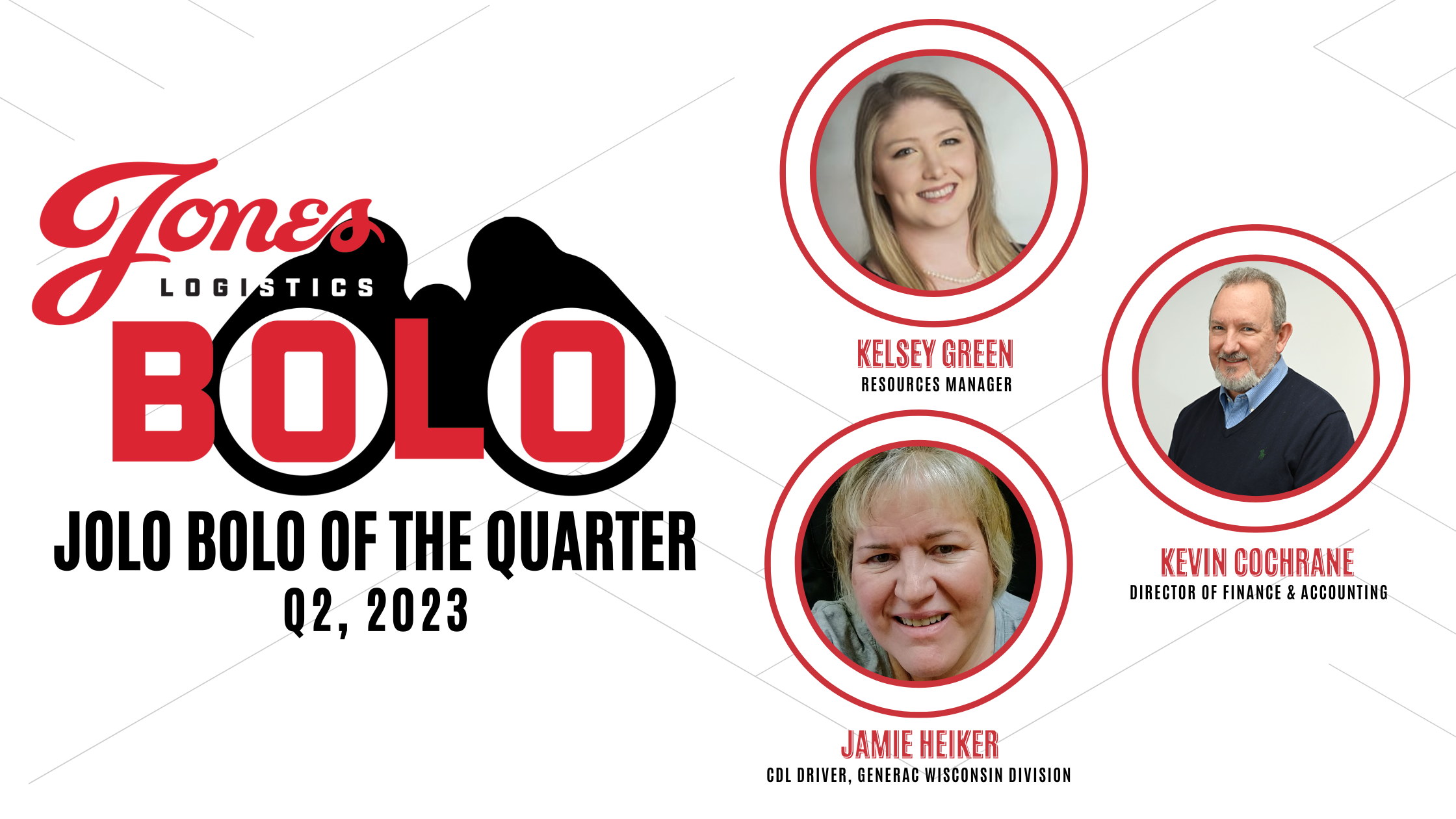 Over the past three months, there were many great nominations for our quarterly JoLo BOLO recognition program that we simply couldn't just highlight one person. That's why this quarter, we're shaking things up a bit. Instead of just one, we've decided to recognize three members of the JoLo family! It is our pleasure to call Kelsey Green, Resources Manager, Kevin Cochrane, Director of Finance and Accounting, and Jaime Heiker, a driver for our Wisconsin Generac division, our three Q2, 2023 JoLo BOLO winners.
JoLo BOLO (Be on the Lookout) is a quarterly employee, nomination-based recognition program. Employees nominate their peers for exemplifying our company's core values: integrity, passion, unity, sustainability, and humility. A committee of employees from various sectors of JoLo then votes on a winner.
Kelsey Green started her journey with JoLo in 2020 as a Carrier Sales Representative and was later promoted to Carrier Sales Manager in 2021. In 2022, Kelsey became our Resources Manager. Kelsey has always been a loved and valuable member of the JoLo family. In addition to her outstanding leadership skills, Kelsey is often acknowledged for her passion, integrity, and for her desire to make things better at JoLo. When asked to comment on which of our core values Kelsey represents the most, one of her co-workers commented that "[Kelsey] embodies everything we love at JoLo. She is passionate and cares heavily about the success of Jones. We are very fortunate to have Kelsey as part of the Jones Family, and her ability to work hard and get results is unparalleled."
Our additional JoLo BOLO is, Kevin Cochrane, is our Director of Finance and Accounting based out of Shelbyville, TN. We didn't have the pleasure of welcoming Kevin to the JoLo family until February of this year following our acquisition of Nationwide Express. May of 2023 marks one year since he began his journey with Nationwide. "Kevin has been nothing short of amazing over the last 6 weeks in helping the IT and Finance teams move towards strategic business improvements," commented one of Kevin's peers. "Every email I see from him is an example of excellence. He works quickly, diligently, and most importantly, with a degree of professionalism that is a wonderful example to follow."
Our final JoLo BOLO is Jamie Heiker. Jamie is one of our beloved CDL drivers based out of Columbus, MS, and works with our Wisconsin Generac division. She started driving for JoLo in November of last year. Jamie is receiving a spotlight this quarter for embodying our core value of unity by going above and beyond her call of duty during our "Stuff A Truck" event held in Hattiesburg. "Jamie came to Hattiesburg a few weeks ago with a truck for a volunteer event in the Target parking lot," commented one of her co-workers. "The decal on the truck was damaged. We knew we couldn't use this truck, so she drove all the way to Mt. Olive, MS to get a different trailer for the event and came back...it takes a true teammate to do something like that."
At JoLo, we are honored to have employees like Kelsey, Kevin, and Jamie who are responsible and take initiative within their roles, but most importantly, we are honored to have employees who live out our core values to such a high degree.
Way to go, team, and thank you for being One of Jones! Are you passionate about your work? Are you looking for a change of pace? Consider applying for a job at Jones Logistics! We are always looking for A-players like Kelsey, Kevin, and Jamie. To learn more about how you can become "One of Jones," click here to visit our career page. To learn more about how you can drive for Jones, click here.