At Jones Logistics (JoLo), the transportation of wood products, including hauling logs, is part of our origin story and core. We started by hauling residual wood chip products over 24 years ago and now we service over 40 dedicated customers across the United States, including multiple wood product and log hauling operations.
That being said, we're no strangers to the fact that log hauling is vital to the forestry industry. In fact, we know that not only the efficient, but safe, transportation of logs to processing facilities is of high importance. However, we also know that log hauling can become very dangerous very quickly, especially if you're not working with the right logistics provider or if you're stuck managing your own fleet. If you're thinking about transitioning away from your current transportation provider, or you're just sick of managing your own fleet operations, it's time to consider hauling with JoLo!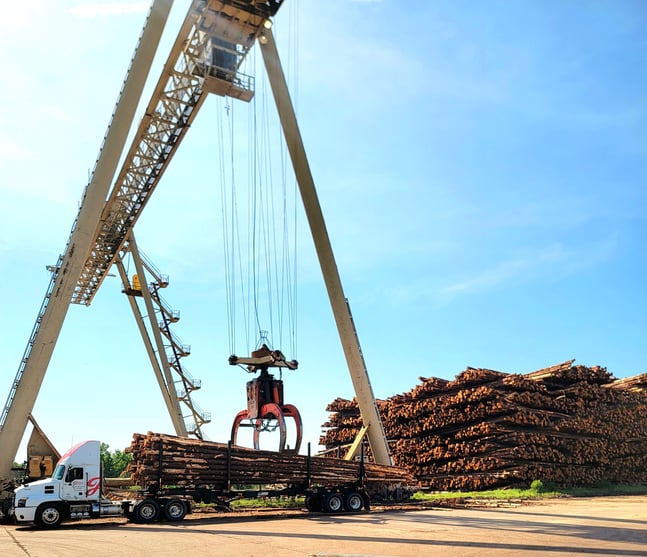 Based in Hattiesburg, MS, Jones Logistics is a trucking company that provides dedicated, freight brokerage, and warehousing services. A few options for a custom dedicated log hauling solution with JoLo includes:
Claims and liability management
Control of a private fleet without the risk
100% visibility of freight through the supply chain
Specialized equipment for your products (including electric winches for log trailers)
Experience with scalehouse operation
Safe, experienced drivers and on-site logistics manager
GPs tracking and real-time communication with drivers

In addition to these great benefits, we also provide flexibility. In fact, at JoLo, we go above and beyond by taking a closer look at your needs and designing a clever and customized solution to meet those needs if it's necessary. This gives you the ability to adapt your log hauling operations to changes in demand, or other operational requirements, all without having to invest in new equipment, resources, technology, or expertise- you can leave all that to us instead!
Another benefit of having a dedicated log hauling contract with JoLo is that we can provide cost savings. Our industry and pricing experts keep a close eye on market rates so that we can ensure you're getting the best deals possible for your freight needs. Not only can you potentially save money and transportation costs, but you could also invest in other areas of your business.
Finally, perhaps one of the greatest benefits of using JoLo for your log hauling needs is that it allows you to get back to what matters most, and that's your company. Take it from us- transportation can be tricky, especially if it isn't something you have to deal with every day! Once you leave us to work that out, you can rest easy knowing we will treat your company as if it's our own so you can get back to business. Whether you are interested in moving on from your current provider or want to convert your private fleet into one managed by JoLo, we can develop a plan specific to your unique business needs.
While we certainly pride ourselves on our ability to improve our customers' lives by providing excellent service and clever, customized transportation solutions, we also pride ourselves on a job well done. We work hard every day, just like you, and we don't walk away from an incomplete project. To learn more about our log hauling services, please click here to fill out a form!
About Jones Logistics
For over 24 years, Jones Logistics has been focused on delivering freight brokerage, managed transportation and dedicated services to clients across the United States. Headquartered in Hattiesburg, Mississippi, the company has over 730 employees across 28 states. The expertise of Jones Logistics has evolved beyond general transportation to include more specialized services such as brokerage capabilities, flatbed, heavy haul, transportation of forestry by-products, and the dedicated services division. Regardless of industry, the team at Jones Logistics locates the right resources for any transportation or logistics requirement.