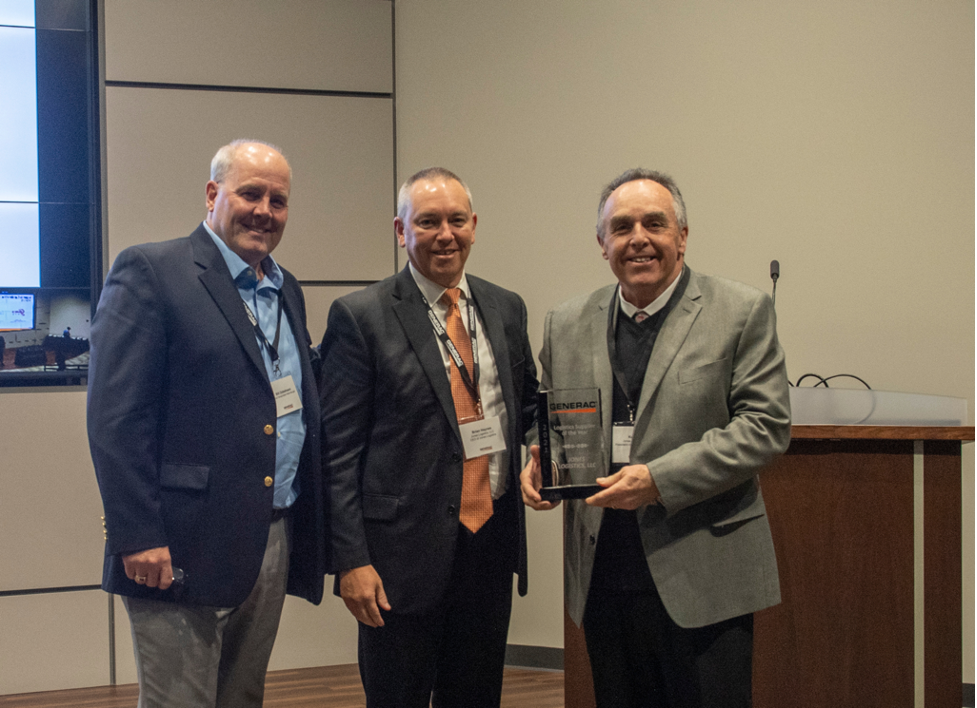 Jones Logistics, a transportation company based in Hattiesburg, Miss, has recently been named Generac's Logistics Supplier of the Year for the second year in a row.
The relationship between Jones Logistics and Generac spans over four years, beginning in June of 2017. This operation started with a small dedicated fleet providing one specific transportation solution. Since then, the fleet has grown significantly in size and complexity. Generac is the first company to engineer affordable home standby generators. Today, it is recognized as the number one manufacturer of home standby generators.
"Being named Generac's Logistics Supplier of the Year is not only a result of hard work, but it is also a representation of Jones Logistics' longstanding commitment to providing exceptional customer service," said Brian Haynes, CEO of Jones Logistics. "Over the past year and counting, Jones Logistics has been committed to running loads as safely and efficiently as possible for Generac, but more importantly, they have been committed to learning their business from all angles and becoming a trusted partner."
Bill Ockelmann, Transportation Mode Manager at Generac, commented, "over the years, Jones has supported our business growth by providing unequaled service and support. Their creativity and operational excellence has allowed us to better serve our customers and continue to be a leader in our industry."
For this partnership with Generac, Jones Logistics operates a 4,000 sq. ft. office building in Waukesha to house the operations teams. A 50,000 sq ft warehouse and 10-acre yard to coordinate and execute the movement of Generac's Commercial Units. Additional facilities include an 8-acre yard in Lyons, Ill. to handle inbound rail and ocean container freight, and a 3-acre yard in Laredo, Texas. to handle Generac industrial units coming out of Mexico City, MX. Jones Logistics is also currently expanding operations in Savannah, Ga. to meet the growing needs of Generac's new production facility in Trenton, SC.
ABOUT JONES LOGISTICS
Jones Logistics is a transportation company based in Hattiesburg, MS. One of several entities under the Jones Capital umbrella, Jones Logistics offers various transportation solutions including dedicated contracts, flatbed hauling, project freight, transload services, and fleet management. Like its parent company, Jones Capital, Jones Logistics is founded on the core values of integrity, passion, unity, sustainability, and humility, and is committed to being a trusted partner in business. To learn more about Jones Logistics, visit jolo.com.
ABOUT GENERAC
Originally founded in 1959, Generac was the first company to engineer home standby generators. Today, it is recognized as an industry leader, and it is also considered the number one name in home backup generators. Their wide portfolio includes not only backup and prime generators, but also solar and battery storage solutions, virtual power plant platforms, as well as other tools and equipment. To learn more about what Generac has to offer, visit https://www.generac.com/.