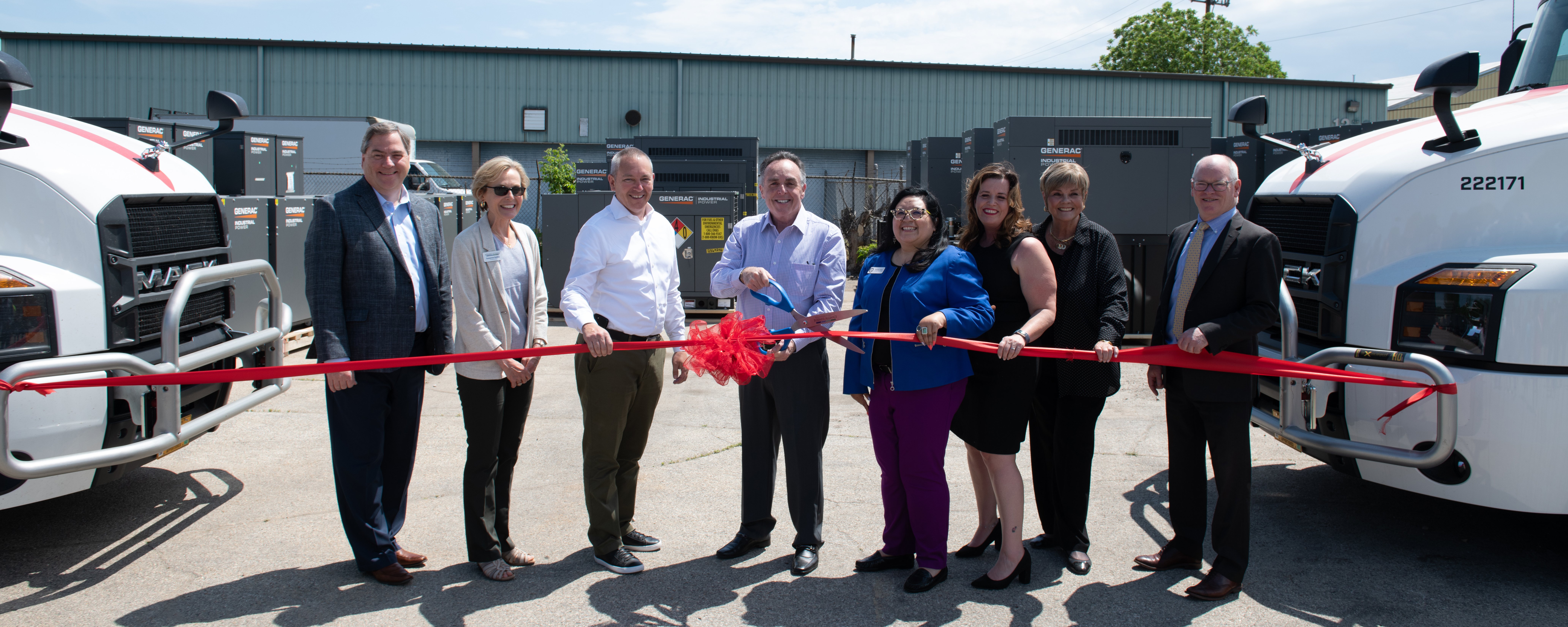 Jones Logistics, a Hattiesburg, Miss. based transportation company focused on providing clever solutions to supply chain needs, recently celebrated opening a new facility in Waukesha, WI.
In 2016, the Jones Logistics Wisconsin project began as a 6-truck operation and has since grown to 150 trucks, 1,000 trailers and a workforce of 188, with a plan to add an additional 75 employees to the team before the end of 2021. Jobs generated from this operation are not minimum wage jobs, but in reality, the average salary of a Jones Logistics employee in Wisconsin pays nearly double the average Wisconsin per-capita annual income.*
Brian Haynes, CEO of Jones Logistics, commented, "I am excited for what we're doing here in Wisconsin. At Jones, our purpose is to enhance the lives of our employees, customers, vendors and communities we serve and as I look around at this operation I believe we are really living out our purpose."
Along with the open house festivities, Jones Logistics celebrated being named Generac's Logistics Supplier of the Year. Such a designation is a result of years of hard work in striving to be the best partner for our dedicated client. Collaboration is critical to the success of supply chain partnerships, and Jones Logistics values the close relationship developed over the years with Generac. "I really think we're making an impact for Generac. Their growth over the last few years has been phenomenal. What you see here today is a result of their continued success and our team being able to service Generac every step of the way," said Haynes.
Jones Logistics employees received a warm welcome from elected officials and the Waukesha Alliance. Waukesha Mayor Shawn Reilly was in attendance and said of the new facility, "It's a good feeling to see an industrial park that is humming. Logistics is one of the tougher jobs around. Manufacturers make stuff, and you guys make sure it goes to where it needs to be installed."
"This is really amazing," said Waukesha County Executive Paul Farrow, "To look and see one of the greatest partners we have in the county with Generac partnering with what you are doing at Jones Logistics is the next phase of what we're going to see grow this community. Congratulations on your growth and continued success!"
A representative from Senator Ron Johnson's office read a statement that included, "Congratulations on your new facility, it is great to hear of a Wisconsin business that continues to grow and expand. While many businesses have struggled during Covid, your expansion brings renewed hope to the business community."
After the ribbon-cutting ceremony was complete, attendees toured the 25-acre facility and networked with each other. To learn more about Jones Logistics, visit www.jolo.com.
About Jones Logistics
For over 20 years, Jones Logistics has been focused on delivering freight brokerage, managed transportation and dedicated services to clients across the United States. The expertise of Jones Logistics has evolved beyond general transportation to include more specialized services such as pipe logistics, brokerage capabilities, flatbed, heavy haul, transportation of forestry by-products, and the recently added dedicated services division. Regardless of industry, the team at Jones Logistics locates the right resources for any transportation or logistics requirement.
*The average per-capita annual income for Wisconsin in 2019 was. $33,375. Source: https://www.census.gov/quickfacts/WI